Uncertainty factor:
Medium.
Unless you have the card side by side with a real DL or you know what to look for on the card, it's unlikely your card will be denied entry to a venue in the UK.
Cost:
10/10. In all honesty, the price of g0d Driving Licences in the UK is crazy cheap when you use crypto. G0D always does an amazing job with his cards and if there's ever a print error or anything wrong with the card, g0d has you covered with his great reprint warranty. An extra 25% cost of the order for a guarantee I'll get a perfect card. It's a steal.
Shipping:
10/10. G0D is insanely quick with sending out packages. They usually get in Britain within 4 days and are delivered within 7. There was a point where my ID was held in customs for about a week but it got cleared and in all honesty, that's not the fault of g0d. That's UK customs just taking the piss.
Material/Finish:
8.5/10. In all honesty, I like the cards and their quality. For the price you pay, you're getting a whopper of a deal. However, the super glossy finish can give you away easily in daylight. A real UK Driving Licence doesn't have anywhere near as glossy a finish as a g0d Driving licence. However, At a night, they're not really noticed by bouncers or anything. (Unless they're knowledgeable like that cunt when I gave him my card and he smirked at me and flipped it over.) It's not all bad though. The card works, and it's not a major give away.
Template:
9/10. In all honesty, the template is great. The best we could ask for in the UK at this moment in time. I guarantee there's no other fake ID vendor with a UK licence as good as g0d. However, there CAN be issues with the template. I noticed in my past batches if you rub on the card or do something like that, colouring of the card can wither away or fingerprints can be permanently left on the card. This is most likely due to the gloss finish of the card. The font of the card is brilliant and pretty much 1:1 with the font of a real ID.
Raised Text:
7/10. Now, I don't want to complain about raised text or make a fuss. It's good quality raised text and works a treat when you get ID'd as it's one of the big things a bouncer will look for. My issue is the durability and colour of raised text. With enough force, raised text can rub off of a card. The same goes with the squiggly line security feature and the wavey "UNITEDKINGDOM" text over the EU flag. If a way comes around to make these features more durable, I think we'd be asking for less reprints as a country. I heard that laminating over the raised text can cause it to not get scratched off. (Somebody on the UK forum said that's what a different vendor does.) And the colour of raised text. Not really a massive issue. It's never got me stopped from entering a venue before. But, if g0d was able to change the raised text colour to a lighter shade of black, more of a grey colour, the ID would look even better than we have it.
Holograms/Security features:
8/10. The wheel hologram on the front can sometimes have a weird placement. Sometimes it overlaps other security features, sometimes not. That's not my issue with the card though, and again, I've never been stopped by a venue for it. Front security features are fine. Perhaps they need a little work to be more durable, but they do the job fine in venues and shops. On the back is where the real issue resides. In the UK, we have a lenticular image hologram on the back of the card. That feature is completely missing from the fake. That's understandable however, nobody has actually ever created a lenticular image to put on/in their fake ID. However, to make the cards last against a simple quick flip, g0d could create a fake lenticular that from a glance could look real without spending any more or less money on the card's creation. All he'd have to do is heavily fade either the face or the date on the lenticular image. I mentioned this before in my "potential improvements" thread and I think it would be a universally appreciated change from g0d.
Below is a photograph of a spoofed lenticular from an older UK ID provider who is no longer around. If we see something like this from g0d, we'll have something brilliant.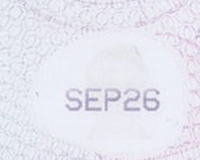 Signature:
10/10 I initially bought my IDs without a signature and not gonna lie, I disliked how the generated signatures came out. That's not the fault of g0d though. He gets loads of orders every day and he's not gonna bother to make mine by hand. I e-mailed g0d about the signature and at first he was reluctant to change the signature on the cards. Eventually he did, using a signature I supplied to him. After that, the cards turned out great. I couldn't be happier.
Overall:
9.5/10 There are definitely possible improvements to g0d cards. Whether they're actually required at the moment is up for debate. The ID works fine currently, but some changes are appreciated, definitely. The lenticular is the biggest complaint I can think of coming from the UK community. After that, I definitely think the next complaint would be tied between a material change to something non-glossy (But also non-bendy!) and a stronger front side of security features. Can't go wrong with a g0d DL though. They scan and UV and will get you that pint of lager you oh so desire!
I have attached photographs below. A big thank you to g0d for making such a good card!